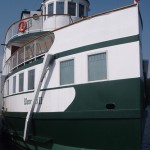 Lucky enough to be up at the Credit Scoring and Risk Strategy Association meeting this year.  A great event, location, and group of people.
A couple of key thoughts and take-aways from the sessions.
For all the recent talk of big data and analytics in the media, this industry has been doing this for years and is ahead on the curve.  Consequently much of the discussion was less about the 'how to' do this, more around 'can we get more, new and interesting data', that is predictive.  It is always refreshing.
Cost and performance continued to be big themes, with processed focused analytics (drilling to the next level, as a result of more data availability) and network analysis being the 'newer' themes discussed.  My feeling is the network analysis theme is one we are going to see develop and expand more as a discipline over the next couple of years.  (it can be very powerful and adaptive)
The last take away was around survey's and industry comparison, this is always valuable, and really got the group engaged.
All in all very thought provoking and it was great to be there.
Photo Credit: Matthew Ingram via Flicker